Dr. Mike Miyamoto, Orthodontist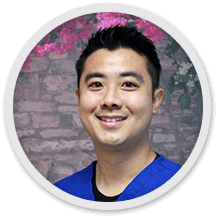 Dr. Mike Miyamoto
Orthodontist
Dr. Mike Miyamoto is a dental specialist trained in orthodontics. He chose to become an orthodontist after undergoing orthodontic treatment himself and realizing that having a healthy and confident smile can change your life!
He graduated dental school from the University of Southern California in 2009. After dental school Dr. Miyamoto went on to complete specialty training in Orthodontics at Case Western Reserve University, graduating in 2011. He also earned a master's degree during specialty training by conducting a research project using 3D x-ray technology.
Dr. Miyamoto's family includes his wife Sue and children Joshua and Emma. As a former college baseball player, Dr. Miyamoto is a fan of all sports and enjoys watching and attending all types of sporting events. Go Spurs go! He and his family enjoy spending time outdoors, traveling and watching movies.
Dr. Miyamoto and the Southside Orthodontics team know the importance of a happy and healthy smile. We pride ourselves on having a friendly, comfortable environment for patients and their families; always with the goal of proving efficient and quality care.